News and Events
When it's OK to have a gutful
When it's OK to have a gutful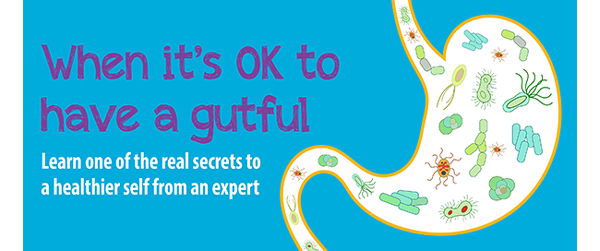 Sugar tax? Diet supplements? Fat or carbs? Can you really make friends with salad? Sometimes it can be ok to 'have a gutful' of dietary advice. However, exciting research on the gut microbiota and gut health is revealing its influence on the health of the whole body. Speaking of Wellness is a series of public talks in our community by scientists exploring the theme 'wellness'.
The first talk in the series - When it's OK to have a gutful - will be presented on March 23 at Faith Works, Norman Park, by internationally recognised microbiologist Professor Mark Morrison from the University of Queensland's Diamantina Institute.
Professor Morrison will speak on the role the gut microbiota, the trillions of microbes living in our intestines, is playing in promoting good health everywhere else in your body.
According to Professor Morrison, the gut microbiota is the x-factor affecting our health and wellbeing.
So if you are interested in your personal wellness and your family's wellness, come along to Faith Works, 177 Bennetts Rd Norman Park at 7pm on Thursday March 23 and discover how a gutful (of microbes) can play a role in determining your health and longevity.
Entry is by gold coin donation.
For more information, contact Des on 0421659124, click here to view the calendar for dates or click here to send us a message.